Foraging Fibre and Basketmaking
Join New Brunswick-based botanist and master weaver Ralph Simpson and community-engaged environmental artist Juliana Bedoya for a full-day experience at the Innisfree Farm and Botanic Garden to learn plant identification, how to reciprocally and ethically forage plant materials, collection methods, fibre processing, storage as well as preparing the fibre to practice different basketmaking and weaving techniques to complete a piece at the end of the workshop. The facilitating artists will also address different cultural, environmental and conservation perspectives that support native ecological restoration and cultural integrity.
Date:

Wednesday, September 29, 9 am to 4 pm

Location:

Innisfree Farm and Botanical Garden, 3636 Trent Road, Royston BC V9N 9R4 (5 km south of Courtenay)

Fee:

$150 (includes materials)
About the Artists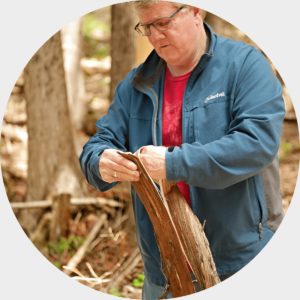 Ralph Simpson, Botanist and Master Weaver
Canadian plant fibre artist Ralph Simpson has developed an innovative method of weaving, bending and sculpting wood and plant fibre to create three dimensional pieces. His gracefully formed work blends bold colour and innovative material with ephemeral fibres to achieve a perfect balance. Most notably, he is a juried finalist in the Salt Spring National Art Prize, 2021 Bienale. He works in his studio in Fredericton, New Brunswick and exhibits his work locally, nationally and internationally, attending residencies and facilitating workshops. When foraging plant fibre he employs principles that respect environmental sustainability.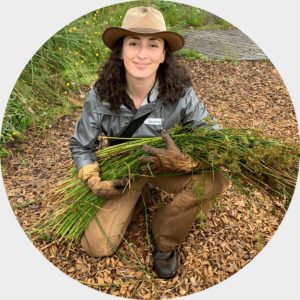 Juliana Bedoya, Community-engaged Environmental Artist
With a background in contemporary sculpture and installation, Juliana Bedoya currently works in community-engaged environmental art practice respectfully using ancestral skills and traditional knowledge that navigates across cultures. Mainly working with garden trims and invasive plants, her work also aims to support local ecological restoration to foster native ecology. She supports individuals and community groups to establish their own cultural significance through skill sharing, including all stages of ethically harvesting and processing raw plant materials for art-making and environmental art practice.