Coiled Baskets from Scotch Broom, Himalayan Blackberry and English Ivy
Date: Wednesday, December 8, 1-4:30 p.m.
Location: Innisfree Farm and Botanical Garden, 3636 Trent Road, Royston BC V9N 9R4 (5 km south of Courtenay)
Fee: $75 (includes materials)
Proof of vaccination is required to take this workshop.
Scotch broom, Himalayan blackberry and English ivy is a well-known invasive plant triad that has successfully naturalized in the West Coast region. In this workshop we will unpack the gifts and attributes of these invasive plants and put them to good use as we learn how to harvest and process the fibres to make functional coiled baskets. We will start discussing the ecological and cultural considerations around these species to then learn how to harvest, process and prepare the fibres for basketmaking. Participants will complete a small to medium size functional coil basket at the end of the workshop.
*Participants are welcome to bring their own water bottle or mug. The Innisfree tea bar will be available with hot water and delicious teas from the farm for people to enjoy.
Instructor: Juliana Bedoya
Contact: juliana@plantsareteachers.org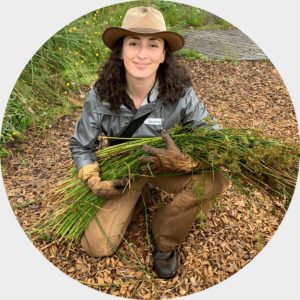 Juliana Bedoya, Community-engaged Environmental Artist
With a background in contemporary sculpture and installation, Juliana Bedoya currently works in community-engaged environmental art practice respectfully using ancestral skills and traditional knowledge that navigates across cultures. Mainly working with garden trims and invasive plants, her work also aims to support local ecological restoration to foster native ecology. She supports individuals and community groups to establish their own cultural significance through skill sharing, including all stages of ethically harvesting and processing raw plant materials for art-making and environmental art practice.
Innisfree Farm Directions: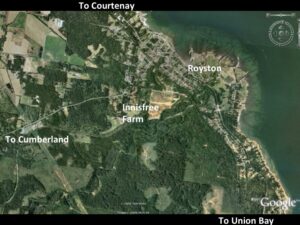 Driving from Comox or Courtenay, drive south towards Union Bay.  At the traffic light in Royston turn right on Royston Road towards Cumberland, pass the railway line, second street on the left. Innisfree is at the end of Trent road (1/2 Km away), the logo facing the street.
COVID-19 Considerations:
Proof of vaccination is required to take this workshop.

Class size is limited to 10 participants and they will be seated following distancing protocols. Participants in the same bubble can sit together.

All participants must wear face masks at all times except when outside.

Doors will remain open during the workshop to allow good ventilation of indoor space.

Classes may be cancelled due to updated restrictions. Refunds will be given if we have to cancel. Refunds are given up to two weeks before the event if a student has to cancel for any reason. No refunds two weeks before the workshop.