Date: Friday, April 21, 10 am to 3 pm

Locations:

10:00-11:40 am Comox harvesting location (will be communicated to workshop participants)

12:00 pm-3 pm

Innisfree Farm and Botanic Garden

 3636 Trent Road, Royston BC V9N 9R4 (5 km south of Courtenay)

Fee: $145-185 (sliding scale*) Includes vegetarian lunch and tea bar at the Innisfree farm
Collaborating with foraged earths, stones and plants to make paint and inks is a practice that invites artists into reciprocal relationship with land. Join artist and Wild Pigment Project founding director Tilke Elkins for a day with wild pigments in the Comox area on the unceded Traditional Territory of the K'ómoks First Nation. We'll spend the morning tuning our eyes to expressions of mineral and botanical colour, and engaging practices that reveal the presence of pigments in the landscape. We'll reconvene at the Innisfree farm for lunch followed by an ink and paint-making session. Through shared group discussion, we'll explore opportunities for reciprocity — ways to give back to the land and its communities, both human and interspecies — that artists can engage to align their material practices with values of reverence for place.
Our time together will include:
Introductions & sharing of personal creative practice (bring work if you like!) and cultural/historical/ancestral relationship with land

Discussion of local Indigenous ancestral & contemporary pigment practices

Quiet, non-verbal tuning-in to place

Guidelines for reciprocal foraging practices

Safety guidelines

Group foraging time

Lunch at the Innisfree Farm

Preparing materials (plants, soils, found objects) for paint-making

Paint-making with foraged materials
Materials needed:
Bring small bags for gathering, two quart-sized glass jars, a paintbrush and sketchbook, a dust mask or N95 mask, snacks and weather protection (good walking shoes/boots recommended).
*Note: Please use the promo code: Reciprocity ONLY if you can't pay the full amount at the moment. The discounted rate will be reflected a checkout. We also have 2 full scholarships available for Indigenous stewards of the land interested in learning how to forage wild pigments. Please email juliana@plantsareteachers.org to request a scholarship.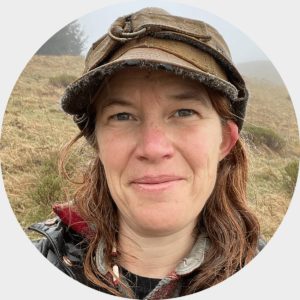 About the Artist
Artist and researcher Tilke Elkins seeks out landscapes that hold palimpsests of human presence and history, where she records conflicting impressions of both neglect and the sublime. The pigments she uses, made from botanical, mineral, and waste stream-derived sources, serve as signposts for endemic events, both personal and cultural. Subtle on-site manipulation of found objects and ephemeral surfaces such as leaves, driftwood and human refuse suggest the presence of an observer, both alienated and enraptured.
The varying moods of landscapes, activated by light and weather, and the movements required to explore the heights, depths and substances of place — climbing trees, crawling through undergrowth, scaling boulders, sinking palms into mud and snow, swimming underwater with eyes open — can activate inner transformation often inaccessible in contemporary urban culture. This exploration of continued physical intimacy with the non-human world, and the catalysts it brings, is a focus of Elkins' research, large-scale paintings and site-specific installations.
Tilke first began to use wild pigments in the late 1990's, when she fell in love with red ochre and chlorophyll ink. After a long period of exploration, in 2008 she removed all synthetic pigments from her studio practice and began to paint exclusively with botanical, mineral and human waste stream-derived pigments.  In April 2019, Tilke founded Wild Pigment Project, an online hub which brings together the global community of people from diverse backgrounds who study and work with wild pigments.  Tilke gives regular workshops on pigments and land stewardship, and is currently developing a teacher-training program to bring Wild Pigment Project education to places of learning nationally and internationally.  She is one of three co-organizers for the Pigments Revealed Symposium 2021, and curator for the concurrent online exhibition.
The WILD PIGMENT PROJECT promotes ecological balance & regenerative economies through a passion for wild pigments, their places of origin, & their cultural histories. The project connects artists to the land by providing resources, education & inspiration to integrate plant & mineral pigments, hand-gathered & prepared in local landscapes, into studio practice.