Harvesting Colour: Fresh Indigo and Other Plants for Colour
Date:

  Wednesday, August 9, 10 am-4 pm

Location: Innisfree Farm and Botanical Garden, 3636 Trent Road, Royston BC V9N 9R4 (5 km south of Courtenay)
Fee: $165 includes vegetarian lunch (optional vegan and/or gluten-free available)
Join community-engaged environmental artist Juliana Bedoya to learn how to extract colours from dye plants, flowers, food scraps, and other plant materials like roots and barks. Participants will harvest Japanese indigo (Persicaria tinctoria) and other dye plants from our fibre and dye garden and will experiment with fresh indigo leaf dyeing in the morning.  In the afternoon we will cover the principles of colour extraction, the chemistry required to create your own palette from locally available plant materials, colour modifications, and the step-by-step process to make inks and watercolours. 
About the Artist
Juliana Bedoya, Community Engaged Environmental Artist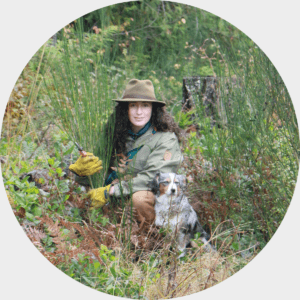 Juliana Bedoya currently works in community-engaged environmental art practice respectfully using ancestral skills and traditional knowledge that navigates across cultures. Mainly working with garden trims and invasive plants, her work also aims to support local ecological restoration to foster native ecology. She supports individuals and community groups to establish their own cultural significance through skill sharing, including all stages of ethically harvesting and processing raw plant materials for art-making and environmental art practice.