Date:

Monday, August 23, 2021 

Time:

10 am – 1 p.m.

Location:

InnisFree Botanical Garden, 3636 Trent Road, Royston BC, V9N 9R4 (5 km south of Courtenay)

Age:

Adults and kids 10+ (with an accompanying adult as we will be handling knives and sharp tools)
Using a variety of garden clippings and other available plant materials from the InnisFree farm, participants will have the opportunity to learn the foundational principles applied to making their own art supplies including what to look for, when to harvest and how to process plant fibres, make charcoal, extract pigments for creative uses like weaving, ink making, paper making, rope making, etc. 
*Participants are welcome to bring their own water bottle, snacks, utility knife, and/or garden scissors, if they wish.
Innisfree Farm Directions: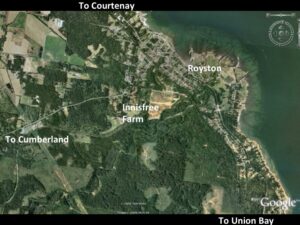 Driving from Comox or Courtenay, drive south towards Union Bay.  At the traffic light in Royston turn right on Royston Road towards Cumberland, pass the railway line, second street on the left.  Innisfree is at the end of Trent road (1/2 Km away), the logo facing the street.