Harvesting Colour: With Artists Bettina Harvey and Juliana Bedoya
Join visual artist Bettina Harvey and community-engaged environmental artist Juliana Bedoya to learn how to extract colours from homegrown flowers, food scraps, and other plant materials like roots and barks. You will learn the principles of colour extraction, the chemistry required to create your own palette from locally available plant materials, colour modifications, and the step-by-step process to make inks and watercolours. 
We are very excited to welcome Tswassen-based guest artist Bettina Harvey, whose artistic practice draws so strongly from her curiosity about and observations of the natural world. She will visit the Comox Valley to share her experience creating fascinating visual experiments with botanical inks. She is currently the first artist in residence at Science World and is exhibiting Drift: from the forest to the sea at the Beatty Biodiversity Museum until August 2023. 
About the Artists
Bettina Harvey, Visual Artist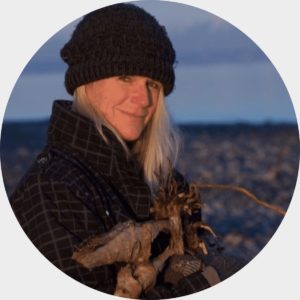 Bettina Harvey's art is deeply informed by her relationship with the natural world. From her earliest years, Harvey has devoted herself to the outdoors, exploring, studying, and playing in nature. After working on a BFA at Montreal's Concordia University, she spent years working as a horticulturist and as a gardener for the City of Vancouver, where she applied her visual art skills designing floral displays for major parks. Eventually, she merged her interests, returning to fine arts as a means of investigating ecological systems and their connections to the human world. Her most recent work examines the intersections between botany, ecology, and humanity. 
Her art has been featured in various exhibitions around the Lower Mainland, including the Seymour Art Gallery's Discovery show, the Ferry Building Gallery, and Kafka's on Main. Her work is held in several private collections across North America.
Harvey lives with her husband and pets in Beach Grove, Tsawwassen, and frequently draws material from her explorations of the habitats around her home and near her mother's home on Denman Island.
Juliana Bedoya, Community Engaged Environmental Artist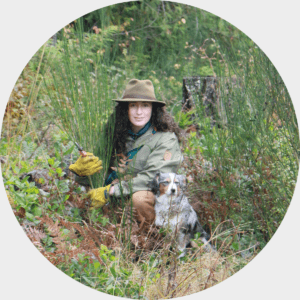 Juliana Bedoya currently works in community-engaged environmental art practice respectfully using ancestral skills and traditional knowledge that navigates across cultures. Mainly working with garden trims and invasive plants, her work also aims to support local ecological restoration to foster native ecology. She supports individuals and community groups to establish their own cultural significance through skill sharing, including all stages of ethically harvesting and processing raw plant materials for art-making and environmental art practice.