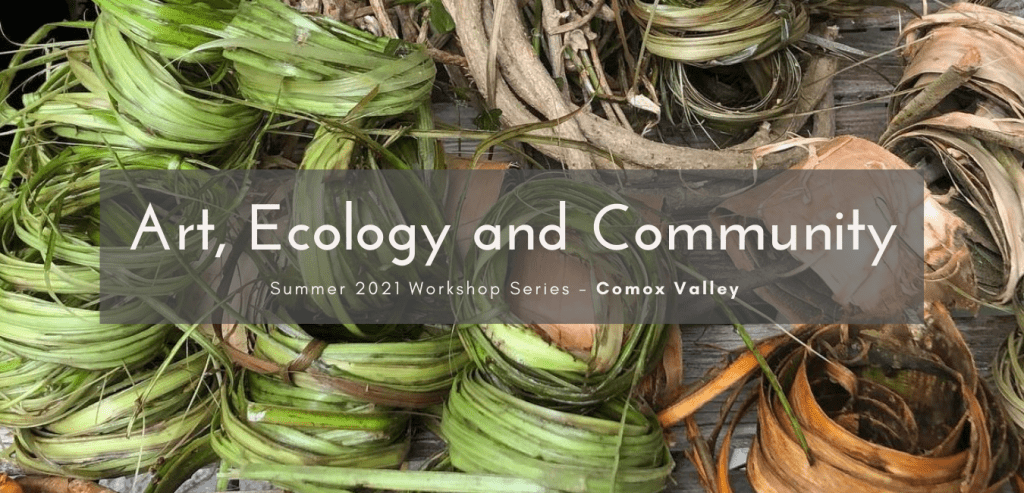 We had an incredible season this summer at the Innisfree Farm and Botanic Garden with the Art, Ecology and Community workshop series that invited participants to learn about different local plants to explore their creative possibilities, the different connections to the territory (or territories) that we call home, while supporting native ecological restoration.
The location couldn't be better and provided not only the most beautiful setting for the series, but also was the source of many of the materials used for each workshop including barks, branches, nettle, bindweed, petals, berries, etc. We welcomed local participants, visitors from across the province and other parts of Canada, including students from Innisfree's Food and Medicine apprenticeship program.
Each workshop was designed to experience the entire process from harvesting local plants to finished pieces with awareness and connection to ancestry and place. We also invited participants to establish their own cultural significance through skill sharing, including all stages of ethically harvesting and processing raw plant materials for art-making and environmental art practice including fibre processing, weaving, basketmaking, ink-making and more. What a beautiful experience it was to be able to harvest some of the "unwanted" plants at the farm to purposefully use them for bracelets, braids, cordage, baskets, paper, paint brushes, charcoal, pigments and inks.
This workshop was inspiring and enlivening to take part in with the facilitator's enthusiasm and knowledge flowing easily throughout the class. Highly recommended!

Michelle, Workshop Participant.
Juliana has such an amazing perspective and way about her, that has a way of turning an already super interesting topic into a beautiful learning experience that you just want more of. Would recommend her 100%.

Workshop Participant.
Great combination of exploration, discovery and interaction. Great guidance for the hands on portion.

Stephen Hawkins, Workshop Participant.
The workshop was fabulous! Juliana is a truly delightful facilitator with beautiful talent and skill, extremely helpful, friendly, enthusiastic and extremely well prepared. I left just wanting to learn more. Such an inspiring workshop.

Workshop participant.
We wrapped up the series the day of the fall equinox and celebrated the Innisfree volunteer appreciation event that invited the amazing team at the farm to make baskets with materials harvested by the pond. We used cattails, tule and yellow flag iris leaves for basketmaking.
Thanks to the land, to everyone who participated, Chanchal, Thierry and the fabulous team at Innisfree!